If you've considered utilizing a bucket elevator or bucket lift in your industrial food operation, it's important to understand what types of materials can be moved with the machine. Here are a few points to remember when deciding if a bucket lift is a right purchase to create a more efficient production line.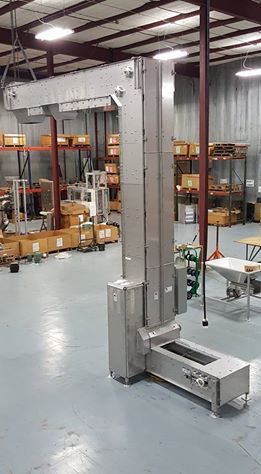 Do Understand the Difference
Bucket elevators may do a job similar to what an industrial conveyor belt does, but don't be fooled into thinking it's the same machine. As the name infers, the biggest difference is the way bucket elevators move materials. Buckets, attached to a rotating belt or chain, pick up material, move it, discharge it, and return to the origination point to pick up more product.
Do Know What Materials Are Bucket-Friendly
If you're considering a bucket lift for your industrial application, it's important to know what materials can be moved. These conveyors aren't designed to pick-up wet or sticky materials. They tend to interfere with the way the machine discharges and often cause build-up issues over time.
The Bucket Conveyor process works best for dry products. For example, if your company produces a number of cereals, a bucket lift can vastly improve your operation. Most cereals are a combination of many dry ingredients. You can program your bucket elevator to pick up the oat clusters, flakes, and barley in the right amounts, and output them directly into distribution bags. If your product includes a variety of marshmallows and you want them evenly distributed into each box, contact bucket elevator manufacturers to identify the right model to meet your needs.
Do Know There Are Many Models and Designs
Regardless of your dry food industry, a bucket elevator manufacturer can help you with a custom product. With a variety of available input and output configurations, bucket sizes, and bucket materials, you can have a lift designed specifically for your operation.